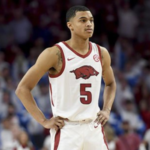 Arkansas guard Jalen Harris is entering the NCAA transfer portal, according to a post on his Twitter account on Tuesday.
The Wilson, N.C., native transferred to Arkansas prior to the 2017-18 season after playing one year at New Mexico. In two seasons with the Razorbacks, Harris averaged 6.0 points, 4.0 assists and 2.5 rebounds per game.
Harris started all 34 of Arkansas' games in 2018-19 under former coach Mike Anderson and averaged 7.6 points and 5.6 assists per game. Under first-year coach Eric Musselman, his role changed and he started only five of 32 games.
For a Complete Look at All The Latest Sports CLICK LINK BELOW