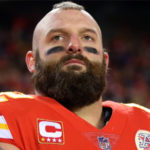 The Kansas City Chiefs have brought back FB Anthony Sherman on a one-year deal.
According to a recent report from Yahoo Sports' Terez Paylor, Sherman will rejoin the Chiefs for the 2020 NFL season. Kansas City Star beat reporter Herbie Teope later confirmed Paylor's report.
Kansas City remains one of the few teams in the NFL to utilize the fullback position. Sherman joined the team via trade with the Arizona Cardinals during the 2013 season. Since his arrival, he's established himself as a leader in the locker room, on special teams and he's a player that makes his opportunities on offense count the most.
For a Complete Look at All The Latest Sports CLICK LINK BELOW
http://www.ecommnewsnetwork.com/category/sports-daypop/