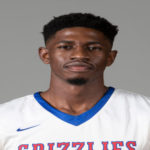 Sardaar Calhoun, a sophomore guard for the Missouri State University-West Plains Grizzly Basketball team, has been selected as an honorable mention honoree on the NJCAA All-American team for the 2019-2020 season.
The list was announced Monday, April 6, on the NJCAA.org website by officials with the organization's Division I Men's Basketball Committee.
"This is clearly a great achievement and a well-deserved honor for Sardaar," Grizzly Basketball Interim Head Coach Aaron Proctor said. "He is a very talented player who could take over a game in an instant, as was evident in our final regular season game this year when he scored a career high 48 points. I'm thrilled he has been recognized by the NJCAA for his abilities."
Calhoun, a 6-foot, 6-inch guard from Tappahannock, Virginia, averaged 18.9 points and 4.5 rebounds this season. He shot 48.5% from the floor, 45.6 from 3-point range and 82.8 percent from the free throw line.
Calhoun was one of the most highly recruited players in Grizzly Basketball history before signing with Florida State University last fall. He received numerous offers from NCAA Division I schools, including Seton Hall, North Carolina State University, Texas A&M University, University of Texas, University of Alabama and University of Georgia, to name a few.
He also made his mark on the Grizzly record books. He set a new bar for most points scored in a game with 48 and in career scoring average with 18.6 points per game.
He's second in career points (1,075), career 3-point field goals made (183) and career 3-point field goal percentage (44.3%).
He's third and fourth in 3-point field goals scored in a season (94 in 2018-19, and 89 in 2019-2020), and fourth in highest 3-point field goal percentage in a season (45.6 in 2019-2020).
And, he's tied for seventh in highest scoring average in a season (18.9 point per game in 2019-2020).
"Sardaar has been a key component of the Grizzly Basketball program for the past two seasons. He has a bright future ahead, and we look forward to seeing how far his talents take him," Proctor said.
Calhoun was one of three players from Region 16 to earn All-American honors. Freshman guard Angelo Stuart from Mineral Area College earned second team honors, and sophomore guard Markelo Sullivan from Moberly Area Community College was an honorable mention selection.
For more information about the Grizzly Basketball program, visit www.msuwpgrizzlies.com or call 417-255-7991.
For a Complete Look at All The Latest Sports CLICK LINK BELOW