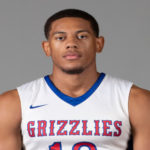 Missouri State University-West Plains Grizzly Basketball standout Alex Peterson will be joining the Kennesaw State University Owls this fall.
Peterson announced his decision to join the Georgia university via his personal Twitter account earlier this month. Kennesaw State men's basketball officials announced the signing today after receiving Peterson's letter of intent.
Former Grizzly Basketball Assistant Coach Aaron Proctor, who recently accepted the director of basketball operations position at Southeast Missouri State University in Cape Girardeau, said he is pleased with the decision of the 6-foot, 7-inch forward from Tappahannock, Virginia.
"I'm excited for Alex. I know he will be impactful on and off the floor. Kennesaw State is getting a great player and an even better person," Proctor added.
This past season, Peterson averaged 14.3 points and 6.8 rebounds a game. He shot 54.9 percent from the field, 31.3 percent from 3-point range and 51.9 percent from the free throw line.
Against Region 16 foes, the first team all-region selection averaged 16 points and 6 rebounds per game.
He scored a season high 32 points against Link Year Prep on Dec. 3.
"Alex is an everyday guy," Proctor said. "His work ethic and consistency is what made him an all-region performer for us."
The Owls are an NCAA Division I program that competes in the ASUN Conference.
For more information about the Grizzly Basketball program, visit www.msuwpgrizzlies.com or call 417-255-7991.
For a Complete Look at All The Latest Sports CLICK LINK BELOW
http://www.ecommnewsnetwork.com/category/sports-daypop/