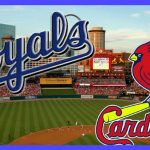 Trevor Rosenthal threw a scoreless 9th inning for his first save since 2017 as the Kansas City Royals beat Detroit last night 5-4. The Royals pounded out 15 hits in the game and scored 2 runs late to get the win.
KC will open a series at Kauffman Stadium tonight with the Chicago White Sox.
The St. Louis Cardinals were off yesterday, they continue a road trip today in Milwaukee, first of a 3 game weekend series. Jack Flaherty will make his second start.
For a Complete Look at All The Latest Sports CLICK LINK BELOW