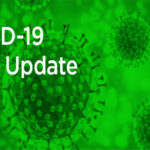 Howell County Health Department reports that an additional sixty-six cases of COVID-19 have been identified in the county over the last 4 days. This brings the year to date total number of cases to four hundred and eighty-nine. Currently, there are one hundred and forty-eight known active cases in Howell County. Of these one hundred and forty-eight, five are currently hospitalized with COVID-19. Forty-four of the new cases reside in West Plains, six live in Willow Springs, seven live in Mtn. View, four live in Pomona, three live in Caulfield, one lives in Peace Valley and one lives in Potterville. Thirty-three of the cases are considered community spread, or the source of the infection is unknown. Thirty three of the cases have been linked to known cases.
Tuesday afternoon the Missouri Department of Health and Senior Services reported _1,317 new COVID 19 case with 18 new deaths and that there are now 1,021 hospitalized. Bringing the YTD Totals to 105,396 Cases and 1,732 deaths.
The Arkansas Department of Health reported 678 new COVID 19 cases with 17 new deaths and that there are now 389 hospitalized. Bringing the YTD totals to 70,125 cases and 1.003 deaths.
Locally in Missouri, there have been 53 Cases in Cater County, 139 in Douglas County, 489 in Howell County, 101 in Oregon County, 92 in Ozark County, 137 in Ripley County, 61 in Shannon County, 204 in Texas County and 165 In wright County.
Locally in Arkansas there have 202 cases in Baxter County, 104 in Fulton County, 931 in Independence County, 133 in Izard County, 321 in Lawrence County, 64 in Marion County, 352 in Randolph County, 170 in Sharp County and 283 in Stone County.

For a Complete Look at All the Latest News Click Link Below
http://www.ecommnewsnetwork.com/category/news-daypop/