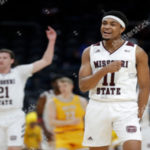 Missouri State sophomore Isiaih Mosley (G, Columbia, Mo.) has earned Missouri Valley Conference Player of the Week honors for the second week in a row, the league announced Tuesday afternoon.
Since MSU joined The Valley in 1990-91, Mosley is just the fifth Bear to earn MVC Player of the Week distinction in consecutive weeks, joining Tony Graves (1992-93), Danny Moore (1996-97), Kyle Weems (2010-11) and Alize Johnson (2017-18).
Mosely continued his hot streak last week by helping lead the Bears to a pair of road wins at Valparaiso and extending his streak of 20-point scoring games to seven in a row. Mosley finished the week averaging 29.0 points, 7.0 rebounds and 4.0 assists per game while shooting 64.7 percent from the field and a perfect 12-of-12 at the free throw line.
For a Complete Look at All The Latest Sports CLICK LINK BELOW