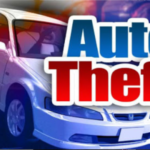 The West Plains Police Department has recently received two reports on stolen vehicles which have not yet been located and are seeking help from the community in locating the vehicles and who stole them.
VEHICLE 1:
On Sunday January 10, 2021, at approximately 8:44 AM, officers responded to a residence on St. Louis Street for a report of a stolen vehicle. It was learned the vehicle, a gray 2020 Ford F-150 with a license plate of 18H-3GD was stolen from the residence sometime between 11:00 PM on Saturday January 9 and the time of call on Sunday January 10. The owner of the vehicle named some people of interests but at this time, there whereabouts of the vehicle are unknown.
VEHICLE 2:
On Monday January 11, 2021, officers responded to the Ozarks Healthcare Thrift Store for a report of a stolen vehicle. It was learned the vehicle, a white 2005 Ford Econoline van with "Ozarks Healthcare" on both sides of the van and a license plate of CU8-R5J was stolen from the business sometime between 1:15 AM and 2:15 AM on Sunday January 10. At this time, the whereabouts of the vehicle and suspect(s) is unknown.
If anyone has any information on these two vehicles or the suspects involved, they are asked to contact the West Plains Police Department at 417-256-2244 or at crimetips@westplains.net.

For a Complete Look at All the Latest News Click Link Below