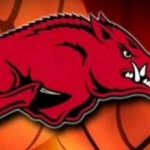 – With an Elite 8 finish, the Arkansas men's basketball program finished sixth in the final USA TODAY Coaches polls.
The Associated Press' final poll was released March 15 prior to the NCAA Tournament and the Razorbacks were 10th.
This marks the first time since 2015 the Razorbacks ended the season ranked – finishing 20th in the coach's poll and 21st by AP – and the first time since 1995 Arkansas ended the season among the nation's top 10 – finishing second by the coaches and sixth in both the AP and UPI polls.
For a Complete Look at All The Latest Sports CLICK LINK BELOW