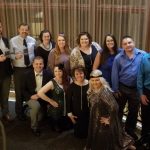 Ozarks Medical Center receives multiple awards at HealthCare Service Excellence conference
CEO Tom Keller takes home top honors
WEST PLAINS, Mo – Ozarks Medical Center (OMC) and members of its staff received multiple awards of excellence in improving the patient experience at the 20th annual HealthCare Service Excellence conference recently held in New Orleans.
The HealthCare Service Excellence Conference is dedicated to delivering evidence-based solutions to help hospitals and other healthcare facilities improve the overall patient experience. The awards are presented by Custom Learning Systems during the conference.
"We are so proud of our team and have made significant strides as an organization to instill a culture of service excellence at OMC, " said Karlee Marvin, RN, Service Excellence Program Coordinator, Ozarks Medical Center.
In 2019, the Summit Awards committee received 214 nominations from 19 different healthcare organizations spanning 11 states. Fifty-seven of the nominees were chosen as Pinnacle Achievers (the best of the best), and 16 of those were presented the Summit Award at the Night of Excellence held on Wednesday, Jan. 29.
The Summit Award is the highest award for each category of excellence presented at the HealthCare Service Excellence Conference. It is awarded to qualified, innovative, and progressive individuals, teams, and healthcare facilities who have made outstanding progress towards improving the patient experience and staff engagement. Individuals, teams, or organizations must be a Pinnacle Achiever to be eligible for a Summit Award.
The 2019 Breakthrough Awards highlight improvements and achievements of Patient Satisfaction and Patient Experience Scores within an organization. These awards to draw attention to and reward excellence in score improvement. OMC was rewarded for its increase in Emergency Department Consumer Assessment of Healthcare Providers and Systems (ED-CAHPS) Standard Overall Assessment increase from 57.4 percent in 2018 to 71.4 percent in 2019. An improvement of 14 percent!
"Our efforts as an organization through our journey into Service Excellence, along with Custom Learning's unique coaching, have been recognized through all of our accomplishments in our ongoing pursuit to become the employer and provider of choice," said Tom Keller, CEO, and President, OMC.
Top honors in the form of the Founder's Award are presented each year to the individual or organization who best exemplifies, through their actions and leadership, the principles of World Class Service Excellence. The 2019 Founders Award was awarded to OMC CEO and president, Tom Keller. It was remarked during the presentation that his staff has said of him, "He (Tom) has high expectations for the people around him and a big vision for the organization.  When you hear him speak of the OMC that he pictures in the future.  His enthusiasm draws you in and makes you believe that big things are possible." 
"We are thrilled to receive these many prestigious awards from Custom Learning Systems," said Bill Wood, Chairman, OMC Board of Directors. "OMC Coworkers have been recognized as going the extra mile to provide an exceptional patient experience. It is our goal to continue to provide the best possible experience for all our patients."
Ozarks Medical Center received 7 Pinnacle Awards, 2 Summit Awards, and 20 Breakthrough Awards:
2019 Ozarks Medical Center Pinnacle Award Recipients:
Jennifer Wheeler, manager, OMC Behavioral Health
Empowering Manager
Dynamic Duo: Chelsea VanWinkle, Tracy Howard
Service Excellence Advisor Team
Emergency Department Throughput
Team Members: Jennifer Seigrist, Marilyn Clinton, Angela Wright, Tracey Cale, Kristy Pots, Nina Tryon, Richard Brinkley
OASIS Team
Richard McGee, director, OMC Behavioral Health
Super Coach
Ozarks Medical Center
Members: Tom Keller, Kurt Abbey, Richard McGee, Gary Brown, Josh Drummond, Amber Tooley, Tonya Aaron, Chelsea VanWinkle, Melissa Smith, Karlee Marvin, Nathan Ell, Elizabeth Cauthen
Service Excellence Council
Tom Keller, CEO and President, OMC
Inspiring Administrator
Ozarks Medical Center Orthopedics: Susan M. Jolly, MD; Edwin M. Roeder, MD;
Medical Clinic of Choice
2019 Summit Award Recipients:
Emergency Department Throughput
OASIS Team
Richard McGee
Super Coach
About Custom Learning Systems
Custom Learning Systems recognized as a leading expert in helping healthcare organizations transform their service delivery by creating a culture of engagement and accountability. They achieve this through dynamic educational initiatives, personalized coaching and consulting. For over 30 years, hundreds of healthcare organizations have partnered with Custom Learning Systems in their journey to excellence in patient satisfaction.
About Ozarks Medical Center
Ozarks Medical Center is a system of care encompassing eight primary care and 16 specialty clinics, along with complete rehabilitation, behavioral healthcare, and home care services. While the 114-bed acute care hospital cares for more than 5,400 admissions, the entire medical system has more than 364,000 patient visits annually, in South Central Missouri and Northern Arkansas. For more information about OMC, visit www.ozarksmedicalcenter.com.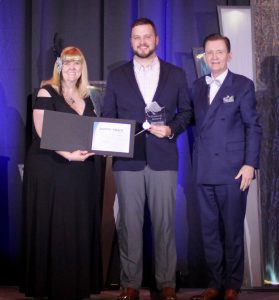 Pictured: Jordan Lang, Critical Care Manager, Ozarks Medical Center, accepting the 2019 Summit Award for the OMC OASIS Team "Emergency Department Throughput" initiative.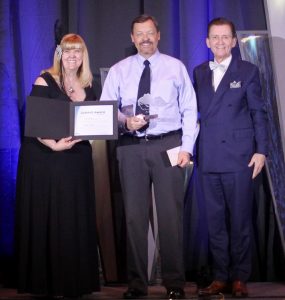 Pictured: Richard McGee, Director, OMC Behavioral Healthcare; 2019 "Super Coach" Summit Award Recipient.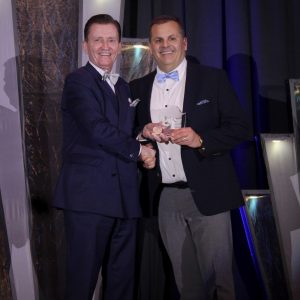 Pictured: Tom Keller, CEO and President, Ozarks Medical Center; 2019 "Inspiring Administrator" Pinnacle Award Winner and recipient of the prestigious Founders Award.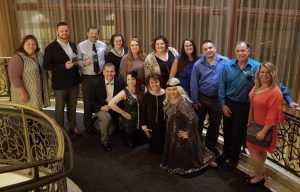 Ozarks Medical Center attendees and award recipients at the 20th annual HealthCare Service Excellence conference held in New Orleans. Pictured from left to right, standing; Tonya Rackley Aaron, Jordan Lange, Richard McGee, Tracy Litchfield, Jennifer Wheeler, Karlee Marvin, Chelsea VanWinkle, Louis Mongillo, Gary Brown, Melody Hubbell; Front row: Tom Keller, Elizabeth Cauthen, Missy Duggar, Amber Tooley.
##