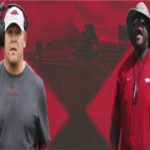 Arkansas recently gave defensive coordinator Barry Odom and offensive line coach Brad Davis $100,000 raises.
The two were given raises after a pair of SEC schools came after them. That boosted Odom's pay to $1.3 million while Davis is now at $650,000. Most fans seem to have praised the move, but some appear to question it since neither Odom nor Davis have coached a game at Arkansas.
So why would Sam Pittman and Hunter Yurachek give these raises? It's actually very simple. You either do that or you prepare to coach against them. Both were among the first targets sought by Pittman when he came to Arkansas. Davis was the first assistant he hired.
Odom will very likely prove very valuable to Pittman at Arkansas in more ways than just providing a better defense. Pittman has never been a head coach except for two years at Hutchinson (Kan.) Community College in 1992-93. So he's a head coach at a major college for the first time in his career.
For a Complete Look at All The Latest Sports CLICK LINK BELOW