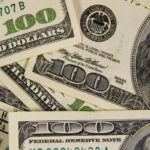 Treasury Secretary Steven Mnuchin said Sunday that Americans could expect checks from the historic $2 trillion stimulus bill to be direct deposited in their accounts within three weeks but experts have determined it could take longer to receive the money.
Congress and President Donald Trump enacted the stimulus bill last week to address the dramatic economic crisis caused by the coronavirus pandemic. Included are direct payments to many Americans, an unprecedented expansion in unemployment benefits and $350 billion in small business loans.
It is not clear how long it would take the agency to send out all the money, but it would likely take weeks before the first payments start going out. Mnuchin said last week that the IRS would begin issuing payments within three weeks of the legislation being signed into law. The bill simply calls for payments to be made "as rapidly as possible."
Under the legislation, single Americans would receive $1,200, married couples would get $2,400, and parents would see $500 for each child under age 17.
However, the payments would start to phase out for individuals with adjusted gross incomes of more than $75,000, and those making more than $99,000 would not qualify at all. The thresholds are doubled for couples.
For a Complete Look at All the Latest News Click Link Below