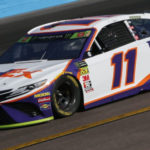 Denny Hamlin won NASCAR's first Wednesday race since 1984 when rain stopped the event with 20 laps remaining at Darlington Raceway.
The Daytona 500 winner was out front but out of fresh tires and trying to hang on when he got unintended help from Joe Gibbs Racing teammate Kyle Busch. The reigning Cup champion caused Chase Elliott to crash eight laps earlier to bring out the caution
NASCAR returned to action Sunday at Darlington after a 10 weeks off by using a strict health protocol and limiting those in attendance to only the most essential for conducting a race.
NASCAR has an ambitious return plan of 20 races spanning its three national series between Sunday's return and June 21. Spectators are not expected to be permitted to any of the events in this span.
Rain disrupted the schedule Tuesday night when the Xfinity Series was washed out. That race is now scheduled to be held Thursday afternoon.
For a Complete Look at All The Latest Sports CLICK LINK BELOW