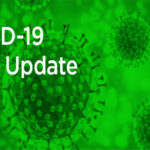 Sunday afternoon, the Missouri Department of Health and Senior Services reported there have been 20,575 COVID 19 cases in the state with 997 deaths.
The Arkansas Department of Health reported there have been 19,818 COVID 19 cases in Arkansas with 264 deaths.
Locally several new cases were reported this weekend. Oregon County reported their seventh case, Fulton County had two new cases this weekend bringing their total to 12, Ripley county had 1 new case and they now have 18, Baxter County now has 20 cases with 2 new cases. Independence county had 5 new cases bringing their total to 54, and Randolph County had 2 new cases bringing their total to 46. The rest of the local counties stay the same as Friday.

For a Complete Look at All the Latest News Click Link Below
http://www.ecommnewsnetwork.com/category/news-daypop/