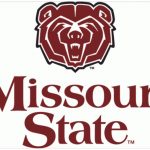 Missouri State University Director of Athletics Kyle Moats announced Friday the addition of the department's newest staff members and internal promotions, all effective July 1.
Coaching hires include C.J. Jones as an assistant in women's basketball and A.J. Lux as an assistant in volleyball and beach volleyball. Likewise, men's basketball will promote Sheldon Everett to assistant coach and Michael Collins to director of operations.
Support personnel additions include Ethan Swingle, Ph.D in the Dr. Mary Jo Wynn Academic Achievement Center, and David Consiglio in Strength and Conditioning (football).
"I want to welcome our newest staff additions," said Moats. "I appreciate their patience in the hiring process, particularly during the COVID shut-down and I really look forward to all of these individuals joining the Bears family."
All of the new hires are replacing departing employees in existing staff positions and are contingent upon final approval by the Missouri State University Board of Governors at its next scheduled meeting.
For a Complete Look at All The Latest Sports CLICK LINK BELOW