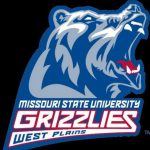 WEST PLAINS, Mo. – The returners and first group of recruits for the Grizzly Basketball program at Missouri State University-West Plains possess a lot of versatility on the floor, according to head coach Jared Phay.
"I like our group, so far. We have guys who can play multiple positions," said Phay, who is beginning his first season at the helm of the Grizzlies.
"Overall, I want guys here who really appreciate the tradition and community support we get here at MSU-West Plains," he added. "I like to recruit guys, but I also want guys who recruit us and have done their research on the history of this place so they have a great appreciation of the community support we receive."
Two returning sophomores will help the newcomers understand that tradition – 6-foot, 3-inch guard Franklyn Petion from Freeport, Bahamas, and 6-foot, 4-inch guard Nico Hill from Opunake, New Zealand.
"I am excited to have Franklyn returning," Phay said. "He has been very vocal to me in wanting to be a team leader next year. His work ethic and how he goes about doing things the right way tells me he will be a great leader. He leads by example. Franklyn is very strong and athletic, and we can create different match-ups for him.
"Nico will be a good player for us, as well. I think he will build on his experience from last year. I know he has an upside that is just being scratched. He is a coach's son and has been well coached," Phay added.
Petion averaged 7.3 points per game last season, while Hill averaged 4.5 points.
Joining them will be newcomers Byron "Tre" Breland III, a 6-foot, 3-inch guard from New Haven, Connecticut; Adnan "Ed" Hussein, a 6-foot, 3-inch guard from Silver Springs, Maryland; Roy Eze, a 6-foot, 8-inch forward from Phoenix, Arizona; and Jimarius Sneed, a 6-foot, 6-inch forward from Chicago, Illinois.
Breland is a sophomore transfer from the New Jersey Institute of Technology where he averaged 2.5 points per game and started four games as a true freshman. He led his Hillhouse High School team to two state championships.
Breland also brings an impressive basketball pedigree to the Grizzlies. His mother, Sabrina Breland, played at St. John's University and is a member of the Connecticut Women's Basketball Hall of Fame. His grandfather, Manny Breland, was the first African-American to earn a scholarship for basketball at Syracuse University.
"Tre is a very athletic guard and brings some NCAA D1 experience," Phay said. "He fits what we look for in playing multiple guard spots. Basketball is definitely in his genes!"
Hussein is another sophomore transfer who averaged 10.8 points per game as a true freshman at Redlands Community College.
"Ed is a high-level shooter and brings some experience to our team. We want to play fast, and we need shooters like him to space the floor. He is very hungry to be one of the best shooters in college basketball."
Eze, a true freshman, averaged 12 points and nine rebounds per game last season at Phoenix Prep, Phay said.
"Roy gives us an inside presence. He is very strong and has really developed the last few years. His skill set is good for a big man," the coach said.
Sneed averaged 15.2 points and eight rebounds a game last season at Craned Medical High School. He scored over 1,000 points and grabbed over 600 rebounds in his high school career.
"Jimarius is what I would call a point forward. He is very athletic and can play inside and outside. He is a guy we can do a lot of things with. He played at a great high school program in Crane, as well as the prestigious AAU Program Team Rose," Phay said.
More players are being added to the roster, and those signings will be announced soon, the coach said.
For more information about the Grizzly Basketball program, visit www.msuwpgrizzlies.com or call 417-255-7991.
For a Complete Look at All The Latest Sports CLICK LINK BELOW
http://www.ecommnewsnetwork.com/category/sports-daypop/