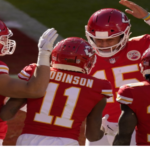 It took the Kansas City Chiefs five frustrating decades to make their second Super Bowl appearance.
Now, the defending champs are headed there for the second straight year.
Showing no lingering effects from his concussion, Patrick Mahomes sliced up Buffalo's secondary with ruthless efficiency Sunday night, helping the Chiefs roll to a 38-24 victory over Josh Allen and the Bills in the AFC championship game.
The reigning Super Bowl MVP finished with 325 yards passing and three touchdowns, most of it to favorite targets Travis Kelce and Tyreek Hill, who complemented their star quarterback with a record-setting night of their own.
Kelce finished with 13 catches for 118 yards and two touchdowns, and Hill added nine catches for 172 yards, becoming the first duo in NFL history with consecutive games of at least 100 yards receiving each in a single postseason.
For a Complete Look at All the Latest Sports CLICK LINK BELOW
http://www.ecommnewsnetwork.com/category/sports-daypop/