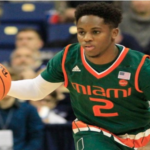 Chris Lykes, a 5-7 guard from the University of Miami (Fla.), has signed with Arkansas, head coach Eric Musselman announced Wednesday.
Lykes spent four seasons with the Hurricanes but only played two games this past year after injuring his ankle on Dec. 4.  He led the team – and ranked among the ACC top 10 – in scoring the previous two seasons as he averaged 15.4 points (10th in the ACC) as a junior (2019-20) and 16.2 points (ninth in the ACC) as a sophomore (2018-19).
Lykes was a preseason first team All-ACC selection this past season. In three-plus seasons with the Hurricanes, he scored 1,256 points with 251 assists and 100 steals while shooting 41.2 percent from the field, 34.7 percent from 3-point range and 77.8 percent from the free throw line.
For a Complete Look at All The Latest Sports CLICK LINK BELOW
http://www.ecommnewsnetwork.com/category/sports-daypop/