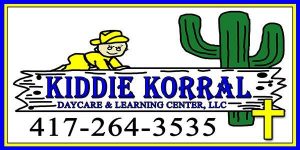 FEBRUARY 26th -APRIL 15th – WEST PLAINS:
The West Plains Senior Center and other Centers will be providing a free-to-participate tax program for citizens 60 years-of-age or older. This program includes access to tax experts who will be able to not only help people fill out information on tax forms, but also to educate people on what to look out for when it comes to scams. For Questions about the program, call 417 256 4055.
FEBRUARY 27th – APRIL 13th – THAYER:
The Thayer Elementary Kindergarten and Preschool Programs will have an open enrollment period from Feb. 27-March 10 for the 2023-2024 school year.   Stop by the Elementary office to fill out required paperwork including a copy of your child's state certified birth certificate, immunization records, social security card, and proof of residency.  Kindergarten screening dates are April 10 and 11. Preschool screening dates are April 12 and 13. Students must be registered to receive appointments.  If you have any questions, please call the Elementary office at 264-4600.
WEDNESDAY'S – MARCH 22-29  APRIL 5-12-19-26 – WEST PLAINS
The Ozarks Healthcare Behavioral Health Center is offering a new support group "Hoarding to Healing" at 23 Parkway Center at 1211 at Porter Wagoner Blvd in West Plains.  Hours for all dates is from 3:00 until 4:00 p.m. Space is limited.  Reserve a spot by calling 417-257-6762.
MARCH 17-18, APRIL 22-23,  MAY 20-21 – WEST PLAINS, MO:
The Missouri State University-West Plains (MSU-WP) University/Community Programs (U/CP) Department will host three lifeguard courses this spring at the West Plains Civic Center.  The classes are for those who would like to work at the West Plains Civic Center indoor pool or the City of West Plains' outdoor aquatic center.  Courses are set for March 17-18, April 22-23 and May 20-21, and are part of the Jeff Ellis and Associates International Lifeguard Training Program (ILTP).  Candidates must pass a written exam with a score of 80 percent or higher, pass individual technical performance exams and pass simulation practical exams to qualify for licensing.   The first 12 students to register for each session will be accepted. Students must be 16 years of age before May 31, 2023, to take the classes.   For more information or to register, call the U/CP office at 417-255-7966.
FRIDAY, MARCH 24th – MAMMOTH SPRING:
 The First Baptist Church, Highway 9 – Mammoth Spring is hosting a "Easter Cookie decorating class" on Friday, March 24th at 6:00 p.m. Total cost is $10.00.  Class will be taught by Sarah Blum.  Info – 870-625-3273.
FRIDAY, MARCH 24th – COUCH, MO:
The Couch Elementary school is selling Pepsi products and St. Louis Ribs until this Friday, March 24th, to help fund numerous projects, including this year's field trips. Ribs and soda products will need to be picked up after school on Friday, April 14th, no products will go home on buses. Please help support K-6th grades by purchasing St. Louis Ribs or Pepsi products from any elementary student or contacting the elementary office at (417)938-4212.
SATURDAY, MARCH 25th – MAMMOTH SPRING:
Dairyland Donkey Basketball Show will be held at the Mammoth Spring High School Gym on Saturday, March 25th at 7:00 p.m.  Local riders will be riding the Donkey's.  Show is sponsored by the BETA club. Advance tickets are $7.00 and tickets at the door is $10.00.  For more info call 870-625-7212.
SATURDAY, MARCH 25th – HARDY:
 A Bar-B-Que Dinner and Auction will be held for the Michael Blair and Family on Saturday, March 25th at Christian Tabernacle, 1435 AR Hiway 175, Hardy.  Michael is currently battling Stage 4 Throat Cancer. This is a single income family raising two young daughter.  Dinner starts at 5:00 and auction at 6:00.  There will be a variety of meals to choose from and a large assortment of auction item.  To donate or for more information contact Andrea Vogt at 870-847-6577 or Candice Jackson 870-710-0502.
SATURDAY & SUNDAY – MARCH 25th – 26th – HARDY:
 The Hardy Gun and Knife Show will be held on Saturday, March 25th from 9:00 until 5:00 and Sunday, March 26th from 9:00 until 3:00 at the Hardy Civic Center.  Admission is $5.00 for both days…12 and under admitted free when accompanied by an adult.   For more info call 870-257-2783)
SATURDAY, MARCH 25th – COUCH:
Fund Raiser – The Couch Seniors and Alumni will play basketball at the Couch School Gym on Saturday, March 25h…both men and women will play. Women plays at 6:00 and men's game at 7:00.  Players must attend or be graduates of Couch school.  Coaches will be Russell Deckard and Krista Chester.  Info : www.dball@couch12.com.
SATURDAY, MARCH 25- KOSHKONONG: 
1st Annual Cornhole Tournament hosted by the Koshkonong FFA Alumni at the gym. Fundraiser to support the local Kosh FFA alumni. Register at 9am and it starts at 10am. Cost is $50 per team. Pool Play- Split into upper and lower divisions. Double Elimination Tournament. ACL Rules apply. Main Prize is $300, 2nd place is $200 and 3rd place is $100. Full concessions available with pulled pork, nachos, hot dogs, sodas and more.
TUESDAY, MARCH 28 – CHEROKEE VILLAGE:
The Spring River Area Chamber of Commerce Annual Awards and Inauguration Banquet will be held Tuesday, March 28th at the Highland Elks Lodge Community Room, 15 Elks Lane in Cherokee Village. Doors open at 5:00 p.m. and the program begins at 6:30. Tickets are $25.00, this includes dinner and the program. Dinner is served by Biggers Bar Grill and Inn. Entertainment by the Osage Water Band. There will be a silent auction.  Seating is limited.  For information call 870-856-3210.
TUESDAY, MARH 28th – WEST PLAINS:
The National Active and Retired Federal Employees Chapter 695 of West Plains will meet at 12:00 noon at the Los Amigos Mexican Restaurant, 1449 Preacher Roe Blvd. in West Plains.   Judith Revels will give the presentation.   All active and retired federal employees and spouses are invited to attend.
WED, MARCH 29 and THURSDAY, MARCH 30 – EMINENCE R-1:
The Eminence R-1 Kindergarten and Registration and Preschool Screening is Wednesday, March 29th an Thursday, March 30th.  This is by appointment only…children must be five years old by July 31st to enter Kindergarten. Both groups of Children must have their Social Security Card, birth certificate and immunization record.  Preschool Screening is Thursday, March 30th…Child must be completely potty trained and must attend screening to be considered for the preschool program. To register call Bridget Liggett at 870-847-5200 and leave a callback number, you will be contacted ASAP.
FRIDAY, MARCH 31st – THAYER:
E-Communications radio stations, K-Kountry 95, The Gift and The Train proudly bring the Triumphant Quartet to Thayer High School at 7 p.m. The Four Corners Quartet from West Plains will also be performing.  Get Discount Coupons at area businesses.  Contact the radio stations at 417*264-7211 for locations for coupons.  You pay at the door.  Check the web site:  www.ecommnewsnetwork.com for more details.
MARCH 31 – APRIL 1st – MAMMOTH SPRING, AR:
 The Mammoth Spring First Baptist Youth Group is hosting a trip to Silver Dollar City on Friday and Saturday March 31st and April 1st.  Cost is $65.00 and this covers everything except your lunch at noon, snacks, drinks and souvenirs. Your transportation, hotel cost, evening meal on Friday and Saturday night is paid for. 6th graders must be accompanied your parent or guardian and under 18 must have written permission. Deposit must be paid by Friday, March 24th.  (info 870-625-3273)   Everyone welcome to go.
SATURDAY, APRIL 1st – ALTON:
Riverton Baptist Church in Alton, Mo is hosting "our Ladies day" event on Saturday, April 1st at 9:00 AM. The church is location 13 miles Hwy 160E @ "Y" Hwy east of Alton. The guest speaker is Heather Gilion. Call or text Sharon (417) 270-6681 or Casey (417) 270-6601 for more information.
SATURDAY, APRIL 1st – WEST PLAINS:
His Place Christian Academy and His Place House of Worship in West Plains, invite everyone to join them for pancakes & sausage on Saturday from 9-11 a.m. (or until they run out). Breakfast is just $5.00 per person! Their Easter Egg Hunt will start at 10am for 2 – 6yr olds and 10:30 for 7 – 11yr olds age group. EVERY EGG has a PRIZE and the "Golden Egg" has a CASH prize!! It will be $1.00 per child to enter the Easter Egg Hunt.  Both events are fundraisers and ALL proceeds will benefit His Place Christian Academy (HPCA).
SATURDAY, APRIL 1st – THAYER, MO:
The Thayer Farmers Market, next to Pizza Inn, will be open beginning April 1st and each Saturday from 8 to 1.  For booth space, vendors should go the Thayer Farmers Market website.
SATURDAY, APRIL 1st- MAMMOTH SPRING, AR:
Mammoth Spring Chamber of Commerce  with Langley Animal Clinic will have their annual Rabies Clinic at the Simmon's Bank Parking Lot from 9am to Noon. Rabies shots $10, 7-Way $15……Cats-distemper and Selv $20.
SUNDAY, APRIL 1 – POCAHONTAS, AR:
The Bryan Bailey Big 50 Benefit trap shoot will be held Sunday, April 1 at the Five River Shooting Sports Complex on Landfill Road in Pocahontas, Arkansas. Registration begins at 8:00 a.m. and Shoots begins at 9:00. This is an all-age event, prizes given, raffles, silent and live auction, eight different guns will be raffled.  Concessions stand will be available.  Coach Brian Bailey is one of the youth trap shooting Coaches for the Five River Trap Shoots, he has been diagnosed with lung cancer.  For more information call Jeff at 870-378-7547.
MONDAY, APRIL 3 – ALTON:
 The Circus is coming to Alton.  The Culpepper and Merriweather Circus will be in Alton on Monday, April 3rd at the Piney Creek Park, Hiway 160 in Alton at 5:00 and 7:30 p.m. Advance tickets can be purchased at the City Hall, Alton Bank or Southern Bank… 13.00 for adults and $8.00 for children and seniors.  The day of the circus tickets are $16.00 and $9.00, so buy EARLY and SAVE.  This is sponsored by the Alton Fire Department.
TUESDAY, APRIL 4 –WINONA:
Winona Mo park board is hosting the Culpepper and Merriweather circus coming to town on Tuesday April 4th, showing times at 5:00 and 7:30 that evening. Contact a park board member for tickets.
SATURDAY, APRIL 8th – WILLOW SPRINGS, MO:
Easter with the Easter's at the First General Baptist Church in Willow Springs. Concert begins at 6pm on Saturday 4/8/23 the evening before Easter Sunday. Free admission.
SATURDAY, APRIL 8TH – HARDY, AR:
Mark your calendars for Hardy's Easter Egg Hunt at Loberg Park!  Over 8,000 Easter Eggs, wonderful prizes, and FREE PHOTO opportunities with the Easter Bunny! Please arrive 30 minutes early! Egg Hunt starts at 11:00 a.m. sharp!
SATURDAY, APRIL 8th – EMINENCE, MO:
The Eminence R-1 School District BEST Foundation will be holding it's Annual Spring Music Show  beginning at 6:30 PM in the Old Gymnasium.  It will feature The Haversticks (with the Bressler Cousins): Country Revival; and the Baker Family.  Please join us to enjoy this music-filled evening!
 EASTER SUNDAY, APRIL 9:
Winona Mo annual Easter egg hunt is Saturday March 25.
Egg hunt in Summersville City Square – Saturday, April 8th at 1:00 p.m. Age group is Pre-School, Kindergarten through 3rd Grade and 4th through 6th Grade.  In case of rain Egg hunt will be held in the Summersville Community Center.
APRIL 13th, 14th and 15th – WEST PLAINS:
The dates for the 2023 West Plains city wide yard sale and spring cleanup week have been set.  The West Plains city wide yard sale will be held all three days. Yard sale permit fees will be waived during the three-day event. The cleanup week will then be held April 17 through 21. The pickup schedule for cleanup items will be on the resident's normal trash pick-up day. Call West Plains City Hall at 417-256-7176 for more information.
SATURDAY, APRIL 15th – ASH FLAT, AR:
 The 2nd annual spring car show will be held at the Sharp County Fairground in Ash Flat, Ar. on Saturday, April 15th with registration beginning at beginning at 1:30.  Admission is free.  Custom trophies are made by local high school students. Concessions will be available.
SATURDAY, APRIL 15th – WILLOW SPRINGS, MO:
It's time once again for the 8th annual Thomas F. Benyo Masters Memorial 18-hole golf tournament at the Willow Springs Thomas F. Benyo Municipal Golf Course in Willow Springs. The tournament has a tee time of 11am. This will be a 2-person scramble. $40.00 per player or $80.00 per team. To sign up, call 417-469-1214 or there is a signup sheet at the golf course.
SATURDAY, APRIL 15th – WEST PLAINS:
The 18th annual Christos House Chocolate fund raiser will be held on Saturday, April 15th from 6:00 till 9:00 pm. at the West Plains Civic Center.
(info – 417-256-3408)
SATURDAY, APRIL 15th- MAMMOTH SPRING:
Poker Tournament at the VFW Post 7831 at 1pm. Doors open at Noon. Pay at the door with cash or check. $50 donation for each player. $50 buy back 1st and 2nd rounds only. Cash prizes for 1st, 2nd, and 3rd overall. Light snacks and beverages available. Please RSVP……Dan Grant 417-545-1576, Jim Horgan 417264-2806 or Mike Davidson 870-847-1674.
SATURDAY, APRIL 15 – WINONA, Mo:
Winona Mo Public Library board is hosting a motorcycle ride on Saturday April 15th. $15.00 per motorcycle plus $5.00 per passenger. The route will be starting at Winona square going 19 highways to Eminence, 106 to Ellington, 21 to Van Buren and 60 highway back to Winona ending at the library for lunch, $10.00 per plate. Pre register on the library page for a discount.
APRIL 16th – 19th – MAMMOTH SPRING, AR:
 The Mammoth Spring church of Christ will hold a gospel meeting Sunday through Wednesday.   Terry Frizzell from the Stuart Church of Christ in Stuart, Florida will be the speaker.  Terry is formerly from this area. Everyone welcome. (info 870-625-3217)
Sunday Class 10 a.m. Comfort in Dealing with Life's Uncertainties.
Sunday am sermon -10:45 a.m. Becoming God's Work of Art.
Sunday p.m. sermon 1:30 p.m. –Allowing God to Pick the Colors of my life.
Monday 7 p.m. Learning to Change the Painting.
Tuesday 7 p.m. Learning to be in the Background.
Wednesday 7 p.m. Learning to Have Your Heart in the Art.
APRIL 17th – APRIL 21st – MOUNTAIN VIEW, MO:
The City of Mountain View will be holding their City-Wide Annual Spring Cleanup from April 17 to April 21. This cleanup is for city residential households that have current trash services and businesses are excluded. Call Mountain View City Hall for more info.
SATURDAY, APRIL 22nd- MAMMOTH SPRING, AR:
Earth Day at the Mammoth Spring National Fish Hatchery. The event is free excluding Cast a Line Gift Shop. Most activities are from 10am to 2pm. They will have Wildlife/Habitat activities, Arts and Crafts activities,  Outdoor Skills Activities, and much more. Don't forget to register at the front for your chance to win the door prize.
FRIDAY, APRIL 28th AND SATURDAY APRIL 29th – MT. VIEW, MO: 
The South Central Walk Worthy Women's Conference, an inter-denominational event, will be held April 28-29, 2023, at First Baptist Church in Mountain View, Missouri. The conference times are 6:30-9:30 Friday evening and 9:00 a.m.-4 p.m. on Saturday. The conference host will be Teresa Arthur and we are honored to welcome keynote speakers: Mo Isom Aiken, Bible teacher; Whitney Capps, Bible Teacher;, and Sara Forhetz, speaker. Praise and Worship will be led by weRcalled. Cost for this event is $40 through March 31 and will increase to $45 on April 1—(breakfast and lunch included on Saturday). By going to www.scwalkorthy.com you can register online, print out a registration form, find area hotels/rates, and acquire additional information. You can register online or by mailing in a form as late as April 22 or online only as late as April 26, 2023. If seating capacity has not been reached by April 27, those wishing to attend will need to register on-site (April 27-29). Before registering or coming to the conference to register on-site, please check our website to ensure seating capacity has not been reached. We are excited about hosting this event and hope to see you on April 28-29, 2023, at First Baptist Church in Mountain View, Missouri.
SATURDAY, MAY 6TH – MT. GROVE, MO:
The Mountain Grove Area Chamber of Commerce is proud to announce that we will have Mayfest this year! The Mayfest Festival will take place on the Mountain Grove Square from 9:00 am to 4:00 pm. Please contact the Chamber for more information or for Vendor Applications.
WEDNESDAY, MAY 10 – CABOOL:
The Cabool Senior Center Board of Directors invites all "Mothers" to the 2nd annual Mother's Day Brunch on Wednesday, May 10th at 10:30 a.m. at the Cabool Senior Center.  This is an RSVP event.  They need to know how many mothers will be attending. This is a time for fellowship food and a gift of a Diamond Art Painting.  Contact Angie at 417-962-3680.
FRIDAY MAY 12th – WEST PLAINS:
Celebrate the West Plains High School Class of 2023 with the West Plains High School graduation ceremony at 7:00 p.m. at the West Plains Civic Center. If you can't make it, the event will be live-streamed. For more info, call the High School at 417-256-6150.
MAY 15TH – SEPT. 15 –WEST PLAINS:
Route ZZ in Howell County will be CLOSED as contractor crews replace the bridge over Howell Creek.  The bridge closure will be located after County Road 8890 between the railroad tracks and County Road 8240. Weather permitting, work will begin Monday, May 15 with completion anticipated Friday, Sept. 15. The work zone will be marked with signs. Motorists are urged to seek an alternate route and use extreme caution while traveling near the area. For more information, call (417) 469-2589 or toll-free at 1-888-ASK-MODOT.
TUESDAY AND THURSDAY, MAY 23 AND 25 – ALTON:
The Oregon County Grazing School will be held on Tuesday and Thursday, May 23rd and 25th at the Alton Community Worship Center.  Registration begins at Tuesday morning at 7:30 and classes will begin at 8:00 a.m.  Classroom session and on-farm tours will be used to demonstrate the principles of designing a grazing system.  Registration is on a first come bases and is limited to 25 farms.  Deadline to register is Friday, May 12th. Call 417-778-7561 ex 3 for more information.
SATURDAY, JUNE 17 – WINONA, MO:
Winona park board and Winona public library board are hosting together a diy carnival and movie in the park at the Winona lions park on Saturday June 17th. Come out to have fun with us and do something different to help celebrate father's for father's day weekend.
ALTON/THAYER SALVATION ARMY:
If you would like to donate to the Salvation Army in Oregon County throughout the year, then please contact Larry Sisson @ 817-706-1896 or mail your donation payable to Salvation Army at P.O. Box 223 in Thayer, Mo 65791.  Be confident this donation will be used in Oregon county to help those in need.
TUESDAY AND FRIDAY – JANUARY – WEEKLY:
 The "Get Fit Classes" are held each Tuesday and Friday mornings at 10 a.m. at the Izard County Senior Center, located one mile south of Brockwell on Highway 9.  For more information call the center at 980-368-6011.
ALTON:
GriefShare, a special help seminar and support group for people experiencing grief and loss will be held on Thursdays at 6pm at the Alton Church of Christ.  GriefShare features nationally recognized experts on grief recovery topics.  Seminar sessions include "Is This Normal", "The Challenges of Grief", "Grief and Your Relationships," "Why", and "Guilt and Anger".  Meetings will be held at 105 Dunigan Street at the Alton Church of Christ, behind Mills Feed Store.  This is open to the public and is not a denomination specific event.  For more information, call 417-280-1046.
ALTON & THAYER:
The Alton & Thayer Senior Centers will now be offering "hot meals to go" on a weekly basis.  The meals will be done "take out style" at the front door at each center.  For more information, call the Alton Center at 417-778-7342 or the Thayer Center at 417-264-7354 or visit social media pages for each center and to view menus.
ASH FLAT:
The Ash Flat Senior Life Center invites the community to attend monthly events at the center. Every Tuesday and Friday the center holds bingo from 9 until 10:30, Thursday's the center holds card games, board games and painting classes from 9 until 10:30 and they also have exercise classes every Thursday from 10 until 10:30. Snacks are available and meals are served at 11:30 each day at a cost of $3. Call for more information at 870-994-2174
CHEROKEE VILLAGE:
The food pantry at the First Baptist Church in Cherokee Village will be open every Tuesday from 9am to 1pm.
HARDY:
The Spring River Artists Guild at 300 Main Street in Hardy will now be open each Friday, Saturday, and Sunday until Christmas.  Friday hours are 12-4pm, Saturday hours are 10am-4pm, and Sunday from 1-4pm.  Look for the big ART sign and the purple porch.  Masks are required.
MAMMOTH SPRING:
Exercise classes are held at the Mammoth Spring Senior Citizens Center 950 Archer Avenue in Mammoth Spring every Monday except major holidays at 9:00 am. The class lasts 30 minutes and involves stretch bands, weights, stretching, and working on balance. Contact Salem Extension Office for more information at 870-895-3301 or Lisa at 870-321-3351.
WEDNESDAY'S –  GED classes are  held at the Mammoth Spring Fire Department from 9 a.m. to 3 p.m.  Students are accepted starting at age 16.  There is no charge for this class.  Classes are held at the Ozarka College Campus in Ash Flat on Tuesdays and Thursday, also from 9:00 to 3:00 p.m.
SUMMERSVILLE:
A free beginners line dance workout is offered each Thursday from 5:30–6:30pm at the Summersville Senior Center.  A $1 donation to the senior center is suggested to cover use of the facility.  For more information, call 417-932-4866.
WEST PLAINS:
 If you're struggling with Alcohol abuse, then you need to be aware of meetings that are taking place in the area to help with your addiction. It's helping many victims and their families.  Alcoholics Anonymous or A A meets in West Plains almost daily.  Many are attending the West Plains Wednesday evening session at 7 p.m. at 1400 Washington Avenue in West Plains. You and your family members are welcome.  There are meetings in not only West Plains, but Thayer, Willow Springs, Mt. View, Eminence, and  Cabool.  You can attend any meeting. There are no dues, or fees for A A.  It's non-denominational, non-political, and they do not wish to engage in any controversy.  The only requirement is for the desire to stop drinking.  Learn more.  Call 417-256-8988. Their primary purpose is to stay sober and help other people achieve sobriety.
The West Plains Area Farmers Market, located in the East Towne Village pavilion, at 1380 Bill Virdon Blvd. in West Plains, is now open from 2 to 6 p.m. Tuesdays and 9 a.m. to 1 p.m. Saturdays.
Celebrate Recovery in West Plains, which used to be held on Wednesday evenings at 6:00 pm will now be held on Tuesday evenings at 6:00 pm at The First Baptist Church South Campus located at 106 Grove St. West Plains, MO. It will follow immediately after "For the City Meal" which runs from 5pm to 6pm.  Anyone wishing to attend Celebrate Recovery is invited to come early and enjoy a free meal prior to the meeting.
The Howell County Health Department is accepting new or gently used coats for children and adults.  Items can be dropped off at the Health Department at 180 Kentucky Avenue in West Plains or please call 417-256-7078 to arrange pick up.
The West Plains Ozark Health Care Hospital Gift Shop is now open. Hours are 10:00 until 4:00 p.m. week days.  More hours later as they expand their staff.  Call to donate or more information.
(info 417-853-5200 or www.ozarkshealthcare.com/support-us/foundation.)
THAYER:
Thayer-Mammoth Spring  Rotary Club has  several spots available in the community garden located just south of Clarity Church on Hwy 63 south in Thayer.  If you'd like a spot for a small fee, contact Larry Forschler at NAPA Auto parts in Thayer,  or call Larry at 417 264 3210.  All the money goes to Rotary to help our home area.
Ozarks Healthcare Thrift Store in Thayer, located on 612 South 6th St. is open for donations and shopping Monday through Saturday, from 9AM to 4:30PM with a sale every Thursday. Any questions can be answered on our Facebook page or by giving the store a call at 417-264-2028
The First Baptist Church in Thayer has a Christ centered addiction recovery program each Monday at 6:00 p.m. in The Thayer Christian Activity Center on Chestnut Street.  Celebrate Recovery is a faith-based approach to overcoming addictions.  If you or a loved one is struggling with an addiction you are invited to attend or invite someone to attend with you.  If you would like to donate to the many needs or help in this ministry contact Pastor Bro. Jared Russell at 417-264-3403 or e-mail him at www.jaredpaulrussell76@gamaill.com .  If you are able to help provide part of the weekly meal, please sign up for an item at the Welcome Center.  The help will be much appreciated and will bless many.
The Tax Collector office in Thayer will be open on Wednesdays and Thursdays from 9am – 4pm. These hours will remain until further notice.
The Christian Activity Center in Thayer is open for Walkers from 7:00 until 9:00 a.m. Monday through Friday….and open Monday through Thursday from 10:00 until 2:00 p.m. for Senior Adult Activities.
AA meetings are held on Monday, Wednesday, and Friday at 8:00pm at St. Paul United Methodist Church in Thayer.
Barabbas Regional Outreach meets each Thursday beginning at 6:00pm at the Thayer Christian Activity Center.  The organization will engage in weekly meetings of a religious nature to further encourage inmates, those recently released, those suffering from addiction, and anyone who is need of support to reintegrate back into society.  Meeting begins at 6:00pm but please feel free to join as your schedule allows. Food is provided for those in attendance.  For more information, call 417-280-0976.
MAMMOTH SPRING:
Word is Alive Ministries Pastor Charles Morgan is on the air weekly on both AM1290 and FM103.7 The Gift as well as Anywhere, Anytime Kkountry 95 with sermons thanks to faithful listener support. Pastor Charles is on the Gift each Wednesday from 8:30am to 845am and each Sunday on Kkountry 95 from 1130am to Noon. If you would like to contribute to the Non-Profit Organization tax deductible to support the messages on air please send to Word is Alive P.O. Box 1152 Mammoth Spring, AR 72554 or drop off at any Southern Bank.
THAYER COMMUNITY: 
Did you know you can recycle your Christmas lights? Bring your unwanted or non-functional Christmas lights and drop them in the collection box located inside Thayer City Hall. The lights will then be taken to Computer Recycling Center for recycling on February 9th. For more information, call 417-247-7875.